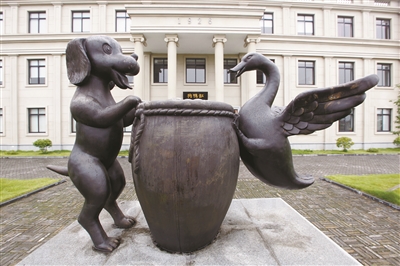 Gangyagou. [Photo provided to Ningbo Times]

By Jin Lu, Zhang Chaoliang
Recently, 520 boxes of hand-made Ningbo traditional foods, including bean paste buns and rice balls with a total worth of 125,700 yuan, began their journey to Los Angeles, California.
These foods are produced and exported by Gangyagou (or "vat, duck, and dog", corresponding to the brand's logo: a duck and dog flanking a vat), a popular local restaurant chain and food brand specializing in traditional Ningbo snacks. Gangyagou's specialty foods were named a "Zhejiang Intangible Cultural Heritage" in 2012.
Though business is booming now, Gangyagou had once been struggling as it faced fierce competition from other brands that mass-produced frozen glutinous rice balls with industrialized assembly lines.
"Traditional food companies should continue to seek breakthroughs if we want to survive and thrive," said Wei Feng, the company's sales manager. Wei told our correspondent that Gangyagou had made new discoveries in ingredient development in recent years while staying true to its heritage.
The brand has also developed unique solutions for preservation, sales channels expansion, and more. In 2014, Gangyagou's frozen glutinous rice balls made their debut on major supermarket chains' shelves.
To revitalize the brand's legacy, Gangyagou and its partners have also invested 50 million yuan in a traditional-process production project in Jiulonghu Town, Zhenhai District, with an annual output of 6,000 tons.
With the completion of Gangyagou's central kitchen and the standardization of its hand-made production processes, the brand's efforts have begun to bear fruit. In late 2016, Gangyagou received their first order for rice ball export to North America. Since then, Gangyagou has witnessed a new period of growth.
"A representative from an export corporation in Shanghai told us that there is a growing demand for authentic Chinese food in the US and Canada's Chinese community," said Wei Feng. Wei stated that Gangyagou wants to seize the opportunity to pursue its own "dual circulation" strategy—boosting its presence in the domestic market while expanding internationally to remain competitive and be prepared to embrace future challenges.