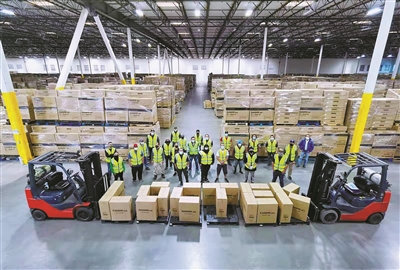 An overseas warehouse set up by Loctek, an ergonomic solution products manufacturer based in Ningbo. [Photo provided by Loctek]

By Dong Na
In the first seven months of this year, Ningbo's total imports and exports reached 750.29 billion yuan, up by 13.3% year-on-year, 2.9 percentage points higher than the national level. Notably, a 21.4% year-on-year increase in imports and exports in July was witnessed, sending a positive signal that Ningbo's international trade sector is resilient and recovering fast.
How did Ningbo's foreign trade overcome the impact of the pandemic to make such glowing achievements?
Strong Manufacturing
Base
Since 2019, China's Ministry of Industry and Information Technology has been awarding the title "Little Giant" enterprises to companies that specialize in a niche product/service, have unique development strategies, refined management and production practices, distinctive products or services, innovative technology and management models. Currently, Ningbo has 283 "Little Giant" enterprises, ranking ahead of every other city in China consistently.
Ningbo has a well-developed manufacturing industry. Most of the "Little Giant" enterprises are in the fields of high-end equipment manufacturing, new materials, green energy, and industrial internet-of-things. Ningbo has the seventh-largest industrial sector in China, while its number of specialized industrial parks and "Little Giant" enterprises ranks first and third respectively.
However, during the pandemic, some of Ningbo's most successful companies were hard hit. They are trying to make a comeback by exploring new sectors.
As a leading Chinese optics manufacturer, Sunny Optical Technology has seen a decline in its main business line, the production of mobile phone lenses. Fortunately, at the same time, its automotive lens business is growing rapidly.
In Sunny Optical's July shipments, there were 89.117 million units of mobile phone lenses (down by 14.9% year-on-year), 36.793 million units of mobile phone camera modules (down by 33.5% year-on-year), but 6.441 million units of in-car lenses (up by 25.7% year-on-year).
Leveraging Digital
Innovations
"All we have to focus on is dealing with clients, while Huayi's international trade service platform takes care of everything else: finding the clients, product design, warehouse leasing, customs clearance, and logistics." Yao Jichang, a representative from the Ningbo-based export company Depu Teshi, said that after partnering with the platform, the average annual growth rate of exports exceeded 100%, and the export volume in the first seven months of this year is higher than the entire year of 2021.
In Ningbo, there are more than ten foreign trade service platforms like Huayi. Each platform services an average of more than 3,000 enterprises.
Since this year, Shi Mao Tong has expanded its tracking system to monitor the arrival, unloading, and delivery of their client exporters' goods, providing transparency throughout the shipping process. Another platform, China-Base Ningbo Foreign Trade is creating a metaverse for Chinese exporters with Meta BigBuyer, its groundbreaking 3D virtual showroom.
Even before the pandemic, many Ningbo exporters were embracing cross-border e-commerce to expand their overseas markets. This decision is proving to be particularly wise after the COVID-19 outbreak.
As of the end of 2021, there were 16,500 enterprises conducting cross-border e-commerce business in Ningbo. Ningbo's companies have built more than 200 overseas warehouses with a total area of 3 million sqm. In the first half of this year, Ningbo's cross-border e-commerce import and export volume reached 107.7 billion yuan, up by 22.7% year-on-year.
Entrepreneurial
Spirit of Hard Work
For 45.61% of the city's 1,982 key import & export companies, July's export orders have fallen compared to the same period last year.
Against this backdrop, a charter flight bound for Hungary's Budapest Ferenc Liszt International Airport took off from Ningbo Lishe International airport at 10:07AM on July 10th, carrying a delegation of 36 government officials and business representatives from Ningbo and Shanghai.
This is the first charter flight in China backed by the local government to help local entrepreneurs consolidate their ties with the European market.
During his 10 days in Europe, Ding Yandong, the general manager of Ningbo Rollmax, visited 7 clients and secured orders worth nearly $2 million. Ningbo Lianbang Changyun signed a 5-year beef import order worth $200 million with European partners.
August 10 was the 21st anniversary of the Russian company LLC Instroytechkom. "This company has been purchasing our forklifts for almost 20 years," said Chu Jiwang, founder of Ningbo Ruyi. Chu explained that to retain old clients and expand into new markets, a company should always do business in good faith, while keeping up with the times by employing digital marketing and other new technologies.