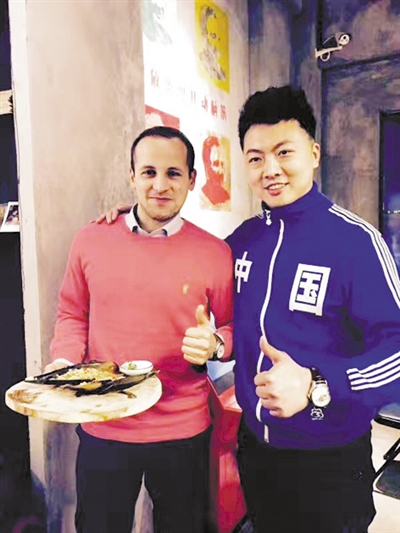 阿道(左)与朋友品尝宁波海鲜。
(阿道供图)
编者按:上周全市中考揭开帷幕,近5万初中毕业生步入考场。大伙最关心的作文题也在考试结束后第一时间火热出炉,成为街头热议的焦点。作为全省唯一的命题作文,宁波卷给出了拍照、乘车时的小情境,从而引出"往后一小步反而更好"主题。
两个情境中,近看与远观,向前争与向后让,生活化中蕴含丰富的东方思辨性。那么,老外怎么解答这道题呢?本报特别邀请了一名摩洛哥小哥Abdelhak Benkerroum,请他以考生的身份,结合自己的宁波故事,写一篇原汁原味的"国际范"中考作文。
往后一小步
by Abdelhak Benkerroum(阿道)
Life is a long journey. We are not responsible for its length, but we are responsible for its depth. Some of us chose to take the train of life all the way until the last stop. Some others prefer to get off the train in an earlier stop, find their comfort zone, and settle in.
I got off that train five years ago and found my comfort zone. The company I worked for, Expeditors International of Washington, promoted me to a regional management position and asked me if I was interested in moving to settle in Dubai and work at their Dubai office. I quickly said yes. A few weeks later, there I was, sitting at their Dubai office and calling Dubai home. A very high salary, an intellectually challenging job, a luxurious car, a magnificent home, plenty of entertainment, amazing friends from all over the world. The right place to make a lot of money and spend a lot of it. The right place to have a fun life. I was 27 years old and life was already smiling to me! I thought to myself that my long journey has come to an end, and I'm getting off that train and settling in this amazing city forever.
That first year in Dubai went by so fast it felt like I only slept one night and woke up to find myself living the same life. I had so much fun, but I didn't see the time passing. I was doing the same things every day, and the routine became boring. Nothing entertained me anymore. More sadly, I felt like my life had no purpose. So I decided to spice-up my life by doing new things and adding purpose and meaning to my life. I decided to sign up for kick-boxing classes, to buy myself a horse and start riding, and to start learning a new language. This last decision was about to change my life. I started taking evening classes at the Confucius Institute at the University of Dubai, jut for fun. Because Chinese language was a challenging thing to learn, and because I thought to myself that by finding new challenges I could add excitement to my life. After going through 4 levels of Chinese classes, my Chinese teacher suggested I apply for the Confucius Scholarship. I was not sure what it meant at that time, but I said yes anyways. We applied and a few weeks later I received an email saying:
CIS编号:CISAMARB1301821
意见:符合孔子学院奖学金要求,授予奖学金。
A few words that first made me smile, then they made me think. There I had a choice: Remain in my beautiful Dubai and enjoy all what that comfortable life had to offer, or jump into the unknown and take the train of life again and continue my life journey. I had to make the decision very quickly or else I would lose a (maybe) good opportunity. I decided to go with the second option and risk everything. I presented my resignation letter to my direct manager, I sold all my belongings in Dubai (including my horse), and after spending exactly two years in Dubai, I moved over to China to discover what life has to offer to me again.
I have been in China more than three years now. I sometimes take a step back and think what would have been my life like if I stayed in Dubai. I got a taste of that three weeks ago when I called my Moroccan friend in Dubai to wish him a happy Ramadan. It was the first time I talked to him since I left Dubai. Generally, when I meet a friend, I'm into the habit of asking them "What's new in your life?" rather than the standard "How are you?" So I asked him what was new in his life. He answered that he was still working at the same company in Dubai, but at a higher managerial position. He was living in a bigger house, and driving a better car. Nothing much has changed in his life other than making more money and spending even more. That's what was new in his life! He asked me what was new in my life since I left Dubai and moved to China. I told him that it has been more than three years since I moved to China. I lived in two different cities, studied Chinese at a university, traveled to more than 30 cities, opened my own trading company in Hong Kong, taught undergraduate students at a university, opened my own training company in Ningbo, wrote my own book, and now working on my e-learning platform. We both started laughing on how our lives were similar to each other when we lived in Dubai, and how they contrasted widely today. I felt some remorse in his life. He ended-up saying he is exploring other opportunities to move back to Morocco and start a new life. I ended-up wishing him what I wish to all my friends all the time "May you live every day of your life. May you LIVE every day of your life"